Description
Buy Beretta 686 Silver Pigeon Combo 20 & 28 Gauge Over/Under Shotgun 28″ Barrel Blued and Walnut
Buy Beretta 686 Silver Pigeon Combo 20 & 28 Gauge Over/Under Shotgun 28″ Barrel Blued and Walnut. The Beretta 686 Silver Pigeon I's receiver, which is derived from the legendary 680 series, features a slim, elegant shape, characterized by the tried-and-tested locking system with iconic trapezoid shoulders and dual conical locking lugs. The engravings are created using modern Beretta technology, namely a 5-axis laser, capable of engraving rounded surfaces while maintaining perfect continuity in the design.
The theme, created by Beretta's Master Engravers, takes the form of an elegant floral motif, embellished with images reflective of the region, such as leaves and grapes on the vine; and extends to the action release, making it more visually appealing as well as providing perfect grip during use. The gun features a gold-coloured single selective trigger. The selector is located on top of the safety tang, allowing the user to select the barrel for the first shot with a simple, rapid sideways movement. The ultra-reliable and sturdy ejection system is the tried-and-tested version used on the 680 platform. This boast more than a million guns in use over the course of more than 30 years.
The pistol-grip stock and forend of the 686 Silver Pigeon I are manufactured from selected, oil-finished walnut and are finely checkered for improved grip, even in the rain. The Microcore recoil pad ensures comfortable, accurate shouldering and safe, stable support when shooting.
The 686 Silver Pigeon I also features Steelium Optima Bore HP barrels in tri-alloy Beretta steel on the 20 gauge barrels. They feature deep drilling, cold hammer forging and vacuum relieving. The geometry of the Optima-Bore HP, with its 80-millimetre double forcing cone is designed to offer outstanding performance, even with steel shot. The pattern remains perfect and uniform irrespective of cartridge type, thanks also to the use of the 70 mm long Optima Choke HP chokes. The 6×6 vented top rib with precise non-reflective chequering and traditional steel front bead is a clear reference to the most exclusive Beretta over-and-under shotguns. Buy Beretta 686 Silver Pigeon Combo 20 & 28 Gauge Over/Under Shotgun 28″ Barrel Blued and Walnut
Features
20 and 28 Gauge Barrels
Microcore recoil pad
Selected, oil-finished walnut wood
Laser-engraved action adorned with grapes on the vine and iconic Beretta trident logo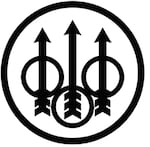 Made In Italy
Specifications
Product Information
| | |
| --- | --- |
| Cartridge | |
| Capacity | 2 Round |
| Weight | 6.8 Pound |
| Shell Length | 3″ |
| Overall Length | 45 Inches |
| Barrel Length | 28 Inches |
| Hand | Right |
| Chokes Included | Cyl, Imp Cyl, Mod, Imp Mod, Full |
| Rib | Ventilated |
| Youth | No |
| Action Type | Over/Under |
| Stock Type | Field |
| Stock Material | Wood |
| Stock Color | Walnut |
| Trigger Type | Single, Selectable |
| Safety | Tang |
| Sights | Bead |
| Barrel Finish | Blued |
| Ported | No |
| Case Included | Yes |
| Frame Material | Stainless Steel |
| Interchangeable Choke | Yes |
| Frame Finish | Stainless |
| Country of Origin | Italy |
| Choke Type | Optima Bore HP |